Sitecore recently acquired Boxever to add a robust Customer Data Platform with a 360-degree view of the customer. This acquisition is a gamechanger in Sitecore's efforts to go full SaaS. Paired with Content Hub and Sitecore Experience Edge, this gives potential customers all the tools they need to have successful Marketing Campaign rollouts.
Boxever Customer Data Platform (CDP) gathers all the data for an organization across all channels including web and mobile. It then uses this data to provide seamless and consistent customer experiences.
Boxever provides the following experiences which can be implemented either by an A/B Test or a Personalization experience.
Web Experiences
Web Experiences are designed for marketers to implement personalization on websites without any reliance on the developers. Using a Web Experience, you could interact with the customer by providing an offer, an operational message, or any experience you can provide via your website. You can preview a Web Experience and test it out.
Interactive Experiences
Interactive Experiences are designed to enable the Product teams to leverage the APIs to serve dynamic content for the server-side personalization. Interactive Experiences gives the back-end systems access to personalization. You can leverage APIs to get personalization from the backend in order to recommend products based on customer history.
Triggered Experiences
Triggered Experiences are designed to present options for the customer based on actions. For instance, sending a personalized email or a mobile push notification an hour after the user has visited a specific product line. You can automate the triggers based on specific conditions.
A/B Testing and Personalization
A/B Testing enables us to compare multiple variations (Multi Variant Testing). If you are testing a website banner, you could create two different types and compare them to see which one is getting more interactions (Clicks) from the end-users.
This is a good way to experiment and based on the outcomes, you could pick the winning variation. The goal is to get more conversions.
In a Web Experience, you can test landing pages, forms, call to action, or pretty much any element on your website to figure out which variation is getting more conversions.
In an Interactive Experience, you can test by offering different levels of discount offers, 5% as opposed to 10%, subscription offers, showing only x products left in the inventory, etc.
Let us take a look at how to add an A/B test via your Boxever admin console.
Click on the side navigation bar and select Web under the Experiences section.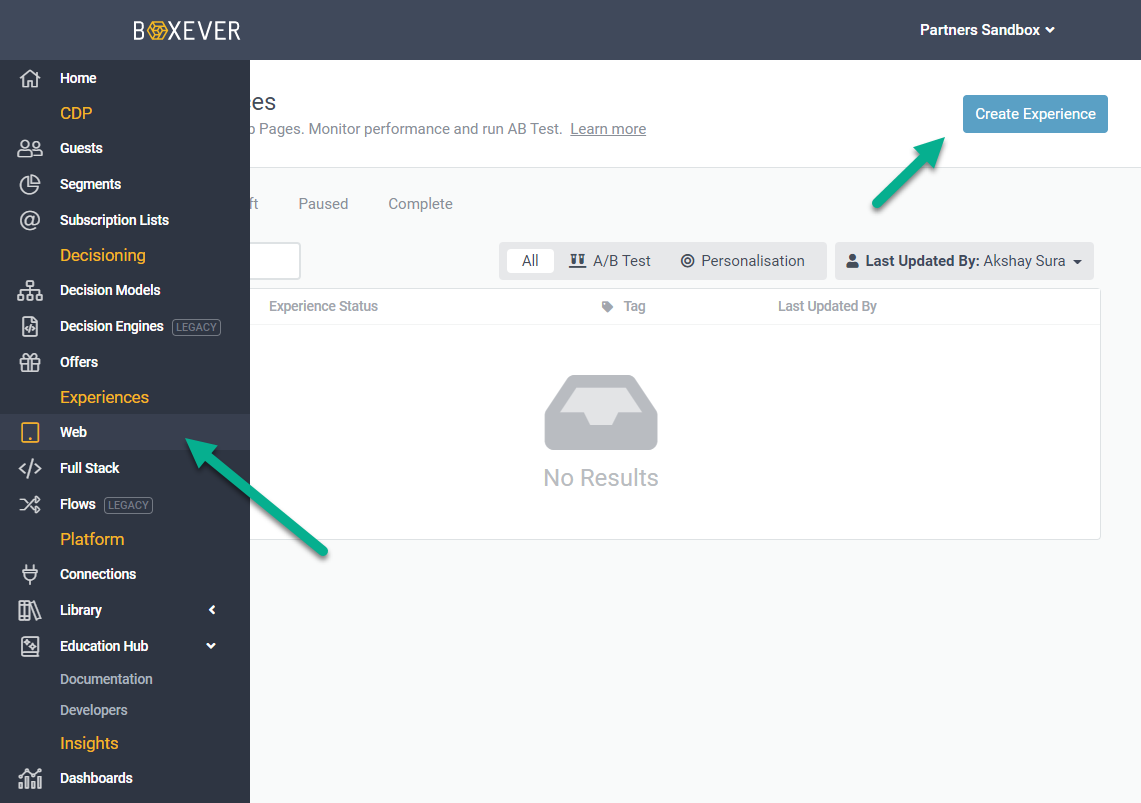 Click on the Create Experience button.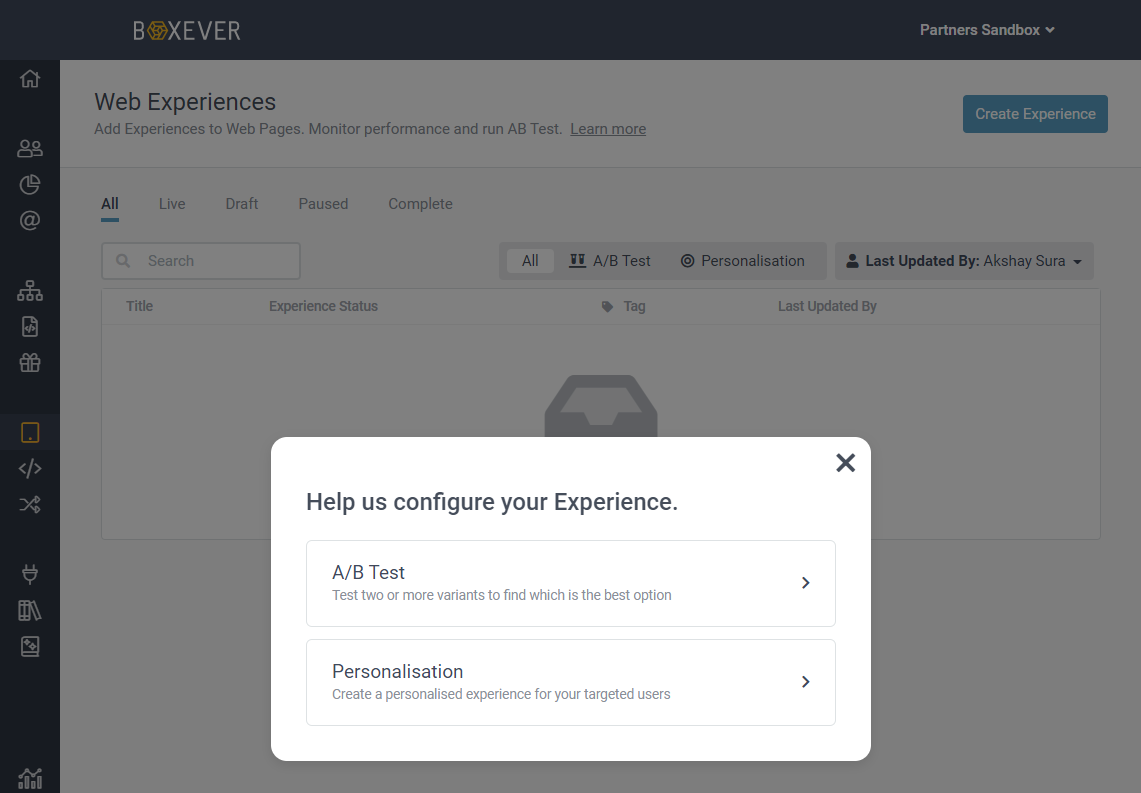 Select the A/B Test option.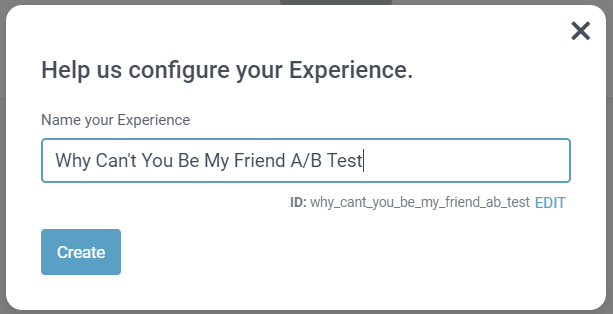 Specify a name and click the create button.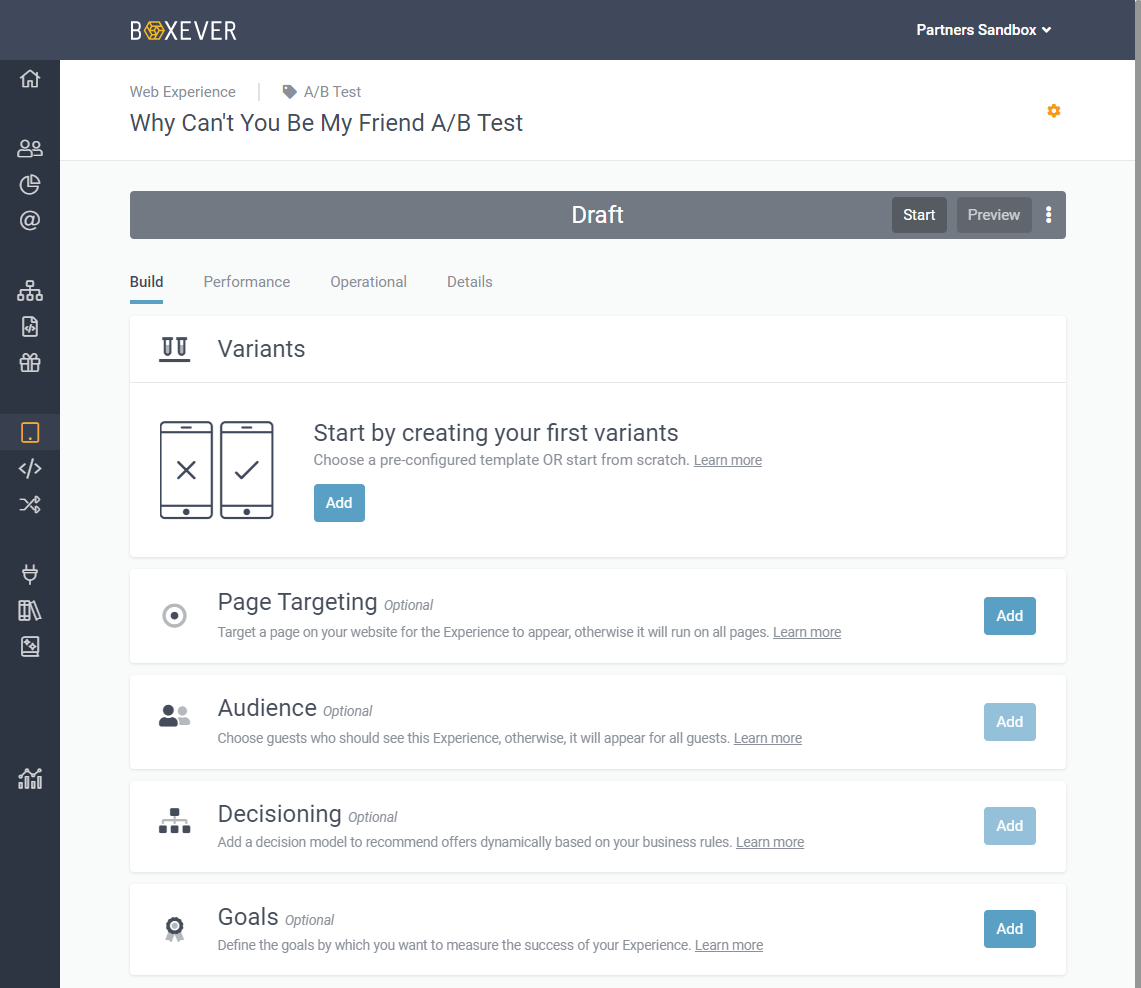 Your A/B test is ready to be configured. You can add the variant by clicking on the Add button.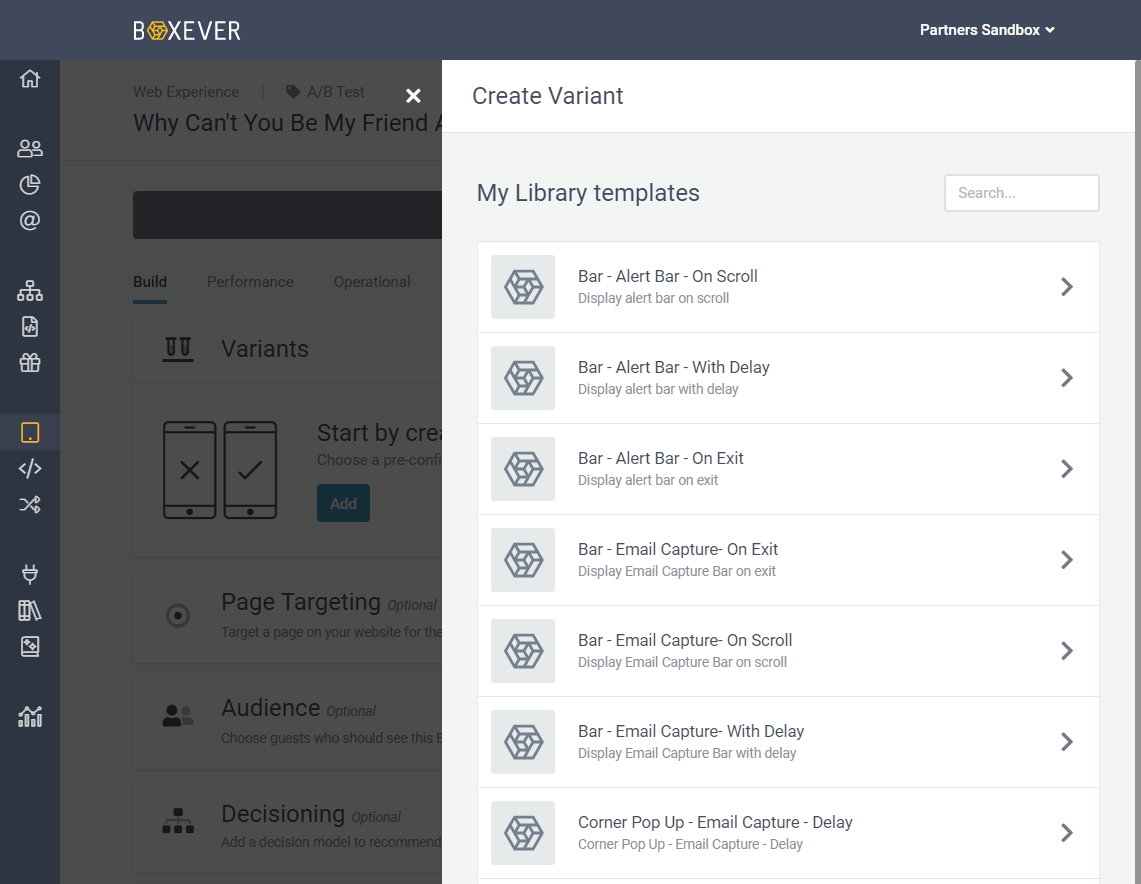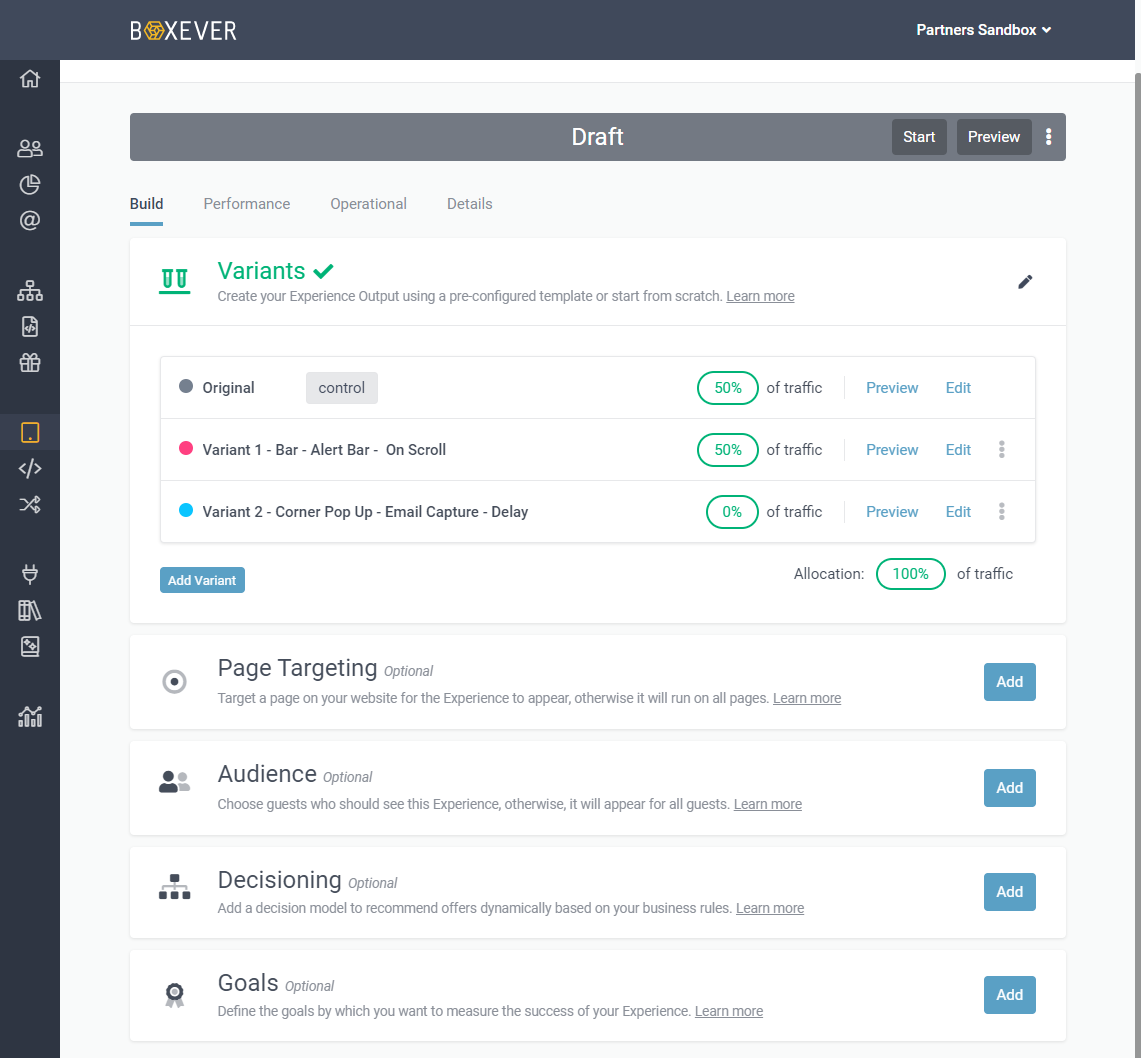 After you are done adding your variants, you can now add the other criteria for the test.
Page targeting (optional) lets you target this test on specific pages of the site or on all pages. If you want to specify criteria, click the add button and provide a way to target specific pages.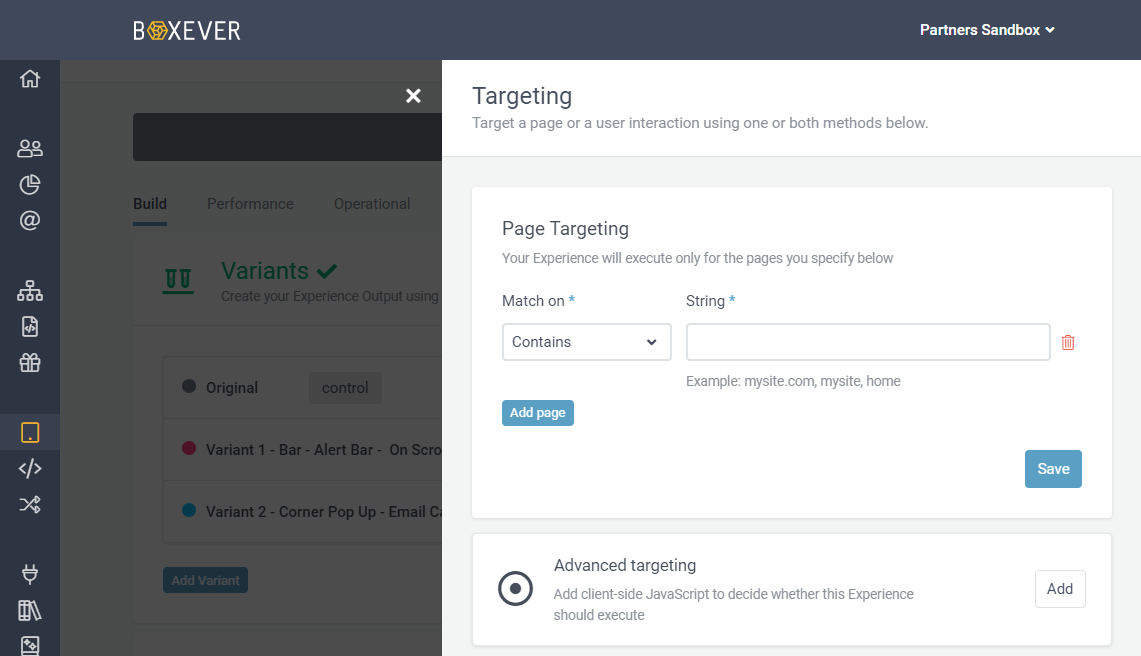 The Audience section (optional) allows you to choose the right audience for this test. You can filter out based on a segment or the user behavior. Click on add to provide more information.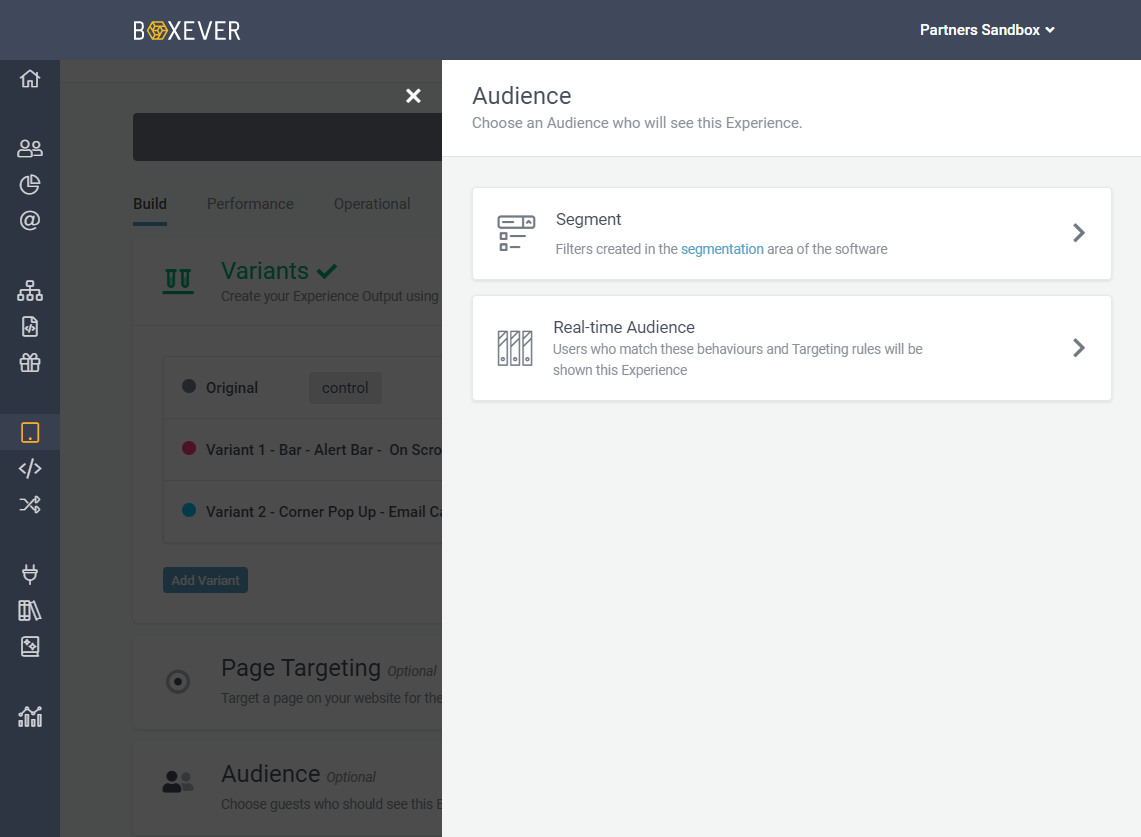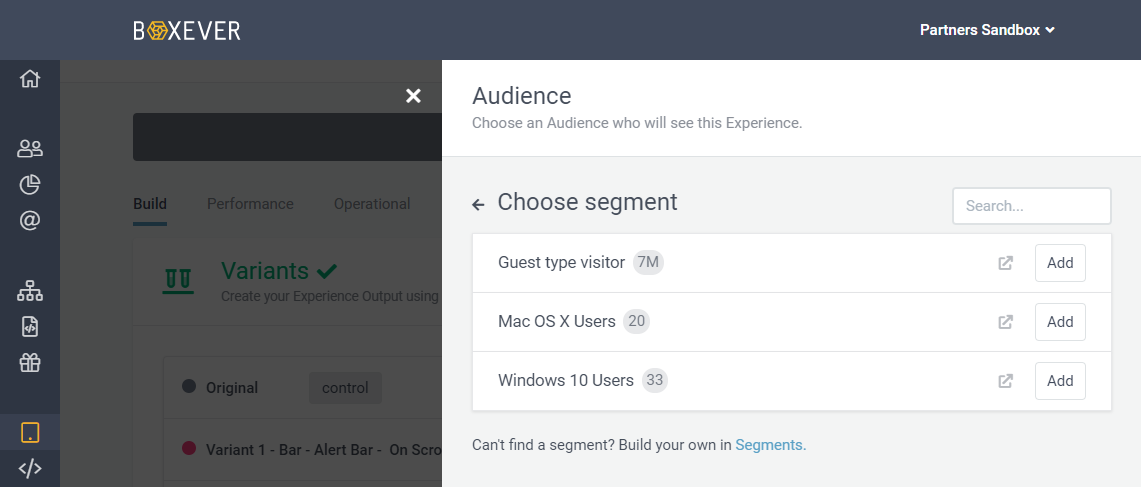 The Decisioning section (optional) allows us to recommend offers dynamically based on rules. If you would like to specify the decision Model for this test click on the Add button.

Finally, the Goals section (optional) can be used to define the goals that would be triggered so that you can measure the success of your experience. If you would like to specify the Goals, click the Add button.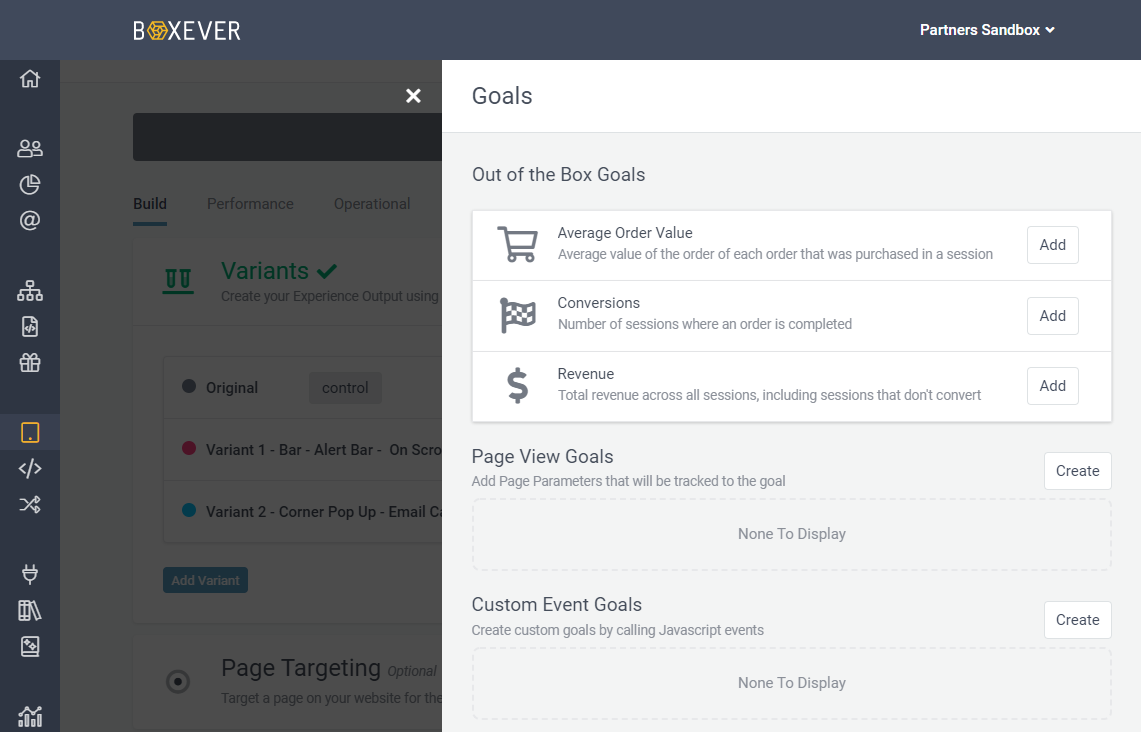 Once you are all set, click start and either start immediately or you can schedule it.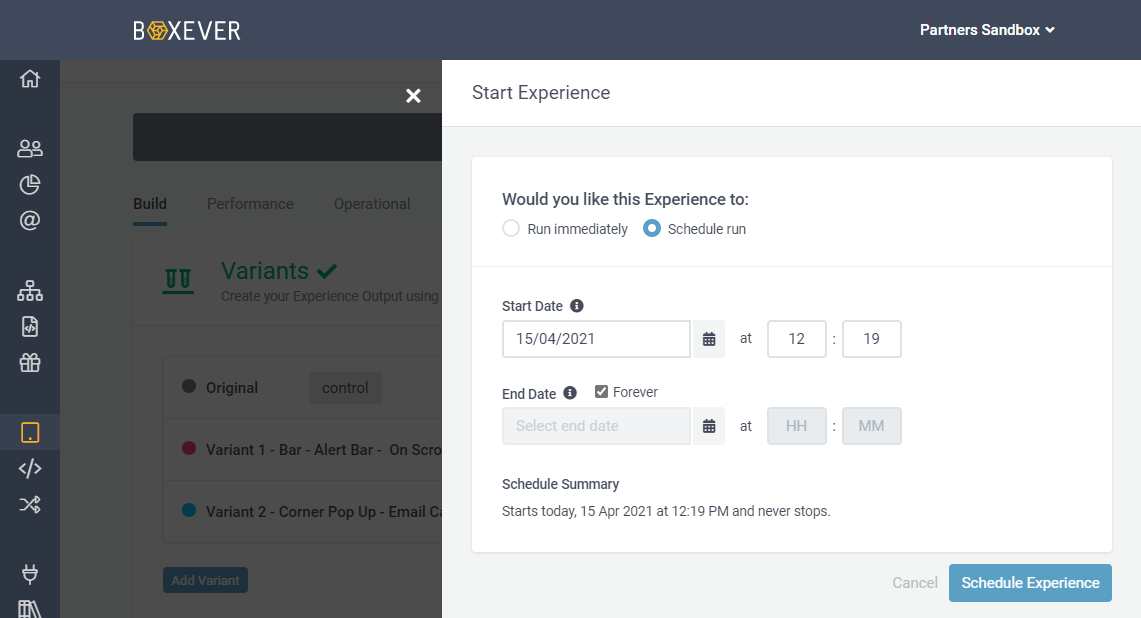 Once you run the test for a few days, you could look into the performance tab to keep an eye on the test.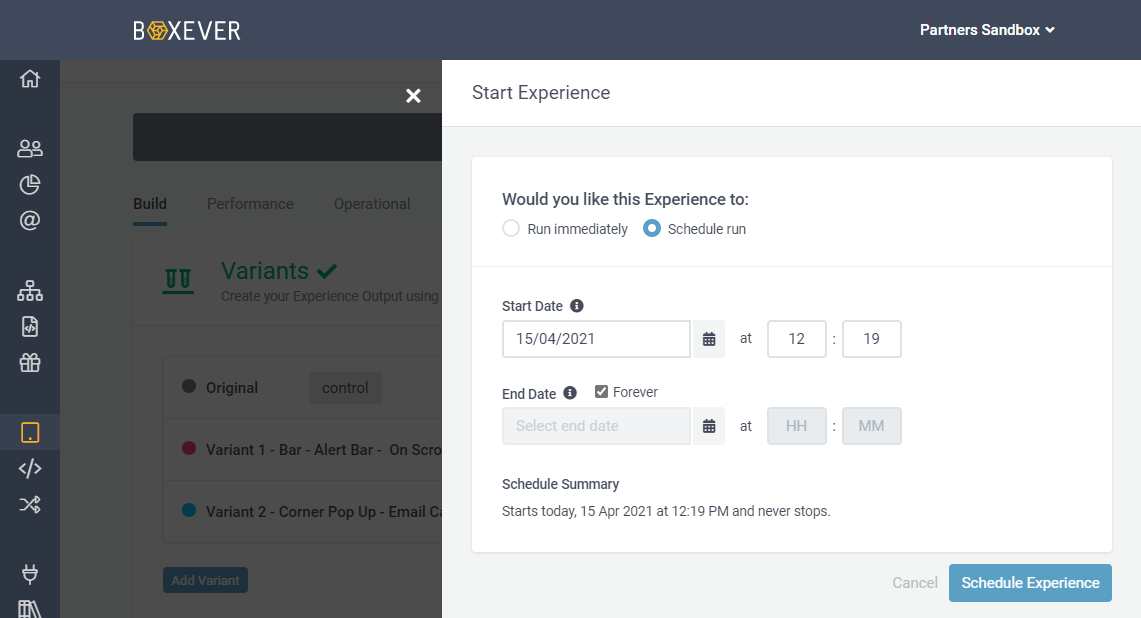 If you have any questions, please get in touch with me. @akshaysura13 on Twitter or on Slack.