Sitecore XP 10.3
The newest version of Sitecore Experience Platform (XP) – 10.3 – has been released, and many Sitecore customers are looking at how the release fits into their own operations and roadmaps.
The release of Sitecore XP 10.3 comes amidst Sitecore's shift towards what is called "composable DXP," or composable digital experience platform. In this framework, best-of-breed solutions can be selected for all layers of the technology and marketing stack and are connected via APIs and microservices – in the cloud! – to the specifications of each organization's needs and goals. Sitecore has developed its own next generation composable DXP across products ranging from content management, engagement, and commerce. The most recent group of its headless products - Sitecore Content Hub One, Sitecore Search, Sitecore Connect - were announced at Sitecore Symposium 2022 in Chicago in October.
Sitecore XP 10.3 represents the pre-composable product line, which has also been called "all-in-one" or Platform DXP. These solutions are hosted on premise, sometimes referred in the marketing materials as "on your cloud" or the "private cloud." Pieter Brinkman, Vice President Technical Marketing at Sitecore, has likened this platform to a Swiss army knife. That is, the constituent products within the platform might not be the best in any one single category but can suit many needs and enable organizations to do many things across the marketing and technology sphere. There are also industries (think banking, healthcare) or regions in the world which cannot be in a public cloud and must be privately hosted.
If you are a customer currently on Sitecore's Experience Platform, there are still strong reasons, both internal and external to your enterprise, to stay the course.
"These releases for existing customers and their existing projects are extremely important," said Kamruz Jaman, Partner at Konabos and ten-time Sitecore MVP. "The transition away from the existing platforms and existing solutions will not happen overnight."
While Sitecore 9.x ends mainstream support on December 31, 2022, this does not mean that the self-hosted product is ending soon.
Jaman continued, "the other announcement Sitecore did make was that Sitecore 10.4 is slated to be released next year (2023). So again, this just shows that there is a commitment to the on-premise solution. For the organizations who want to continue to self-host, people who have made investment in in this product, you will get that extended support."
See existing Sitecore support schedule below.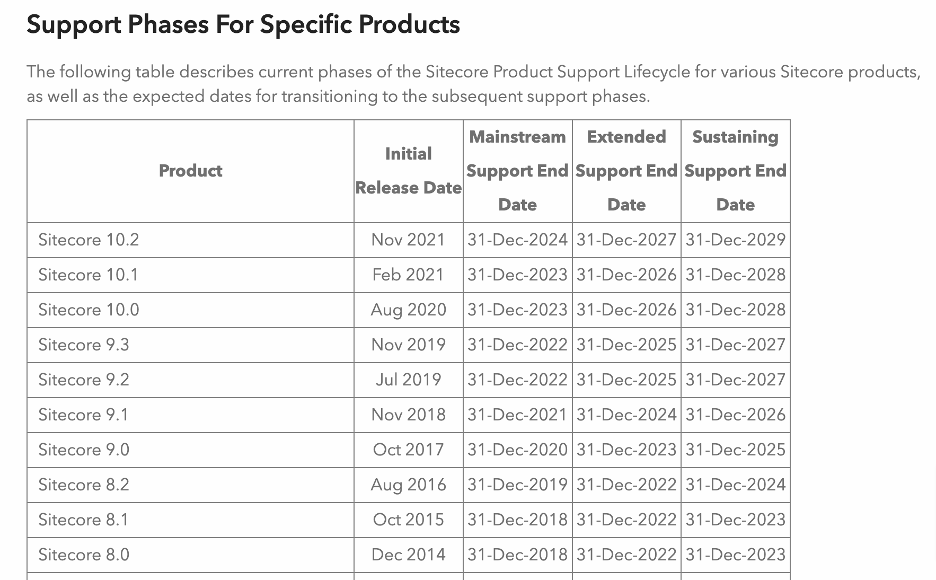 Sitecore XP 10.3, as mentioned, is more a gradual upgrade for those looking to stay the on-premise course. You can read about all the new features and fixes released in 10.3; here are some of the topline items:
Headless SXA
Headless services 21
Sitecore embeddable forms
EXM enhancements
Webhooks
Management & admin apis
Developer focused enhancements
Other system updates
Over 160 bug fixes
As a Sitecore customer, what should I do?
Each Sitecore customer journey is unique, as are the needs and expectations of your enterprise team and industry. There are, however, some general guideposts to consider in your Sitecore decision.
You could stay on Sitecore XM/XP if you are
a new XP customer – ie 10.x – or are still in maintenance periods
using more of the all-in-one XP functionality, beyond the content management system (CMS)
an organization with requirements to self-host or be on-premise
an organization with longer-term commitments and seeks to optimize Total Cost of Ownership (TCO)
You could stay on Sitecore XM/XP and add Personalize (and CDP, or Customer Data Platform), if you are
an organization that is seeking to expand customer data use across channels (omichannel)
an organization looking to expand/improve personalization and testing efforts
You could migrate to XM Cloud (add Personalize/CDP if needed), if you are
an organization on older versions of XM/XP (pre-10) or out of maintenance
an organization that is not managing your current XM/XP investment
planning to redesign, relaunch, and modernize your digital and customer experience
Sitecore XP 10.3 can be seen as a stepping-stone, a toe in the water, on the way to composable, or as a strategy to maximize the total cost of ownership of your Sitecore investment and stay within maintenance for a few more years. Or both.