Sitecore recently launched Sitecore Experience Edge, a new set of services on the Sitecore SaaS platform that allows for scalable headless content delivery to any customer touchpoint. What makes Sitecore Experience Edge so exciting and unique is its ability to provide marketers and developers with the opportunity to create a flexible and superior digital experience. It also enables options for Jamstack architecture across Sitecore XM and Content Hub.
It is a new and ground-breaking option for marketers looking to quickly create and deploy their content through high performance and scalable content API without adding architectural complexity, making it a win-win for both marketers and developers. It allows brands to publish their content quickly through multiple devices and channels, including less traditional ones such as watches and voice-controlled devices.
Making Life Easier Through Innovation, Speed and Flexibility
Sitecore Experience Edge's innovation lies in its ability to quickly and easily create the digital experience and instant appeal that today's customers demand. It makes the digital experience faster, more accessible and makes life easier for everyone! Sitecore Experience Edge accomplishes this by focusing on the user experience through speed, flexibility, and visibility.
Here are a few ways that Sitecore Experience Edge Enhances the User Experience
Faster time to market – It is essential to be the first to engage audiences who are bombarded with daily content from competitors.
Remove infrastructure complexity – With complexity comes high ongoing cost related to maintenance and support.
Flexibility to adjust to scalability – Systems needs to be able to adapt to variable loads without needing an expert on hand.
High Performance – Slow loading websites not only drive customers away but also affect ranking positions. Needs to perform anywhere in the world.
Reach customers across all channels – Streamlines messages to customers across multiple channels and emerging channels.
Integrate with any platform – Integrates with any platform that needs content by utilizing the latest industry standards.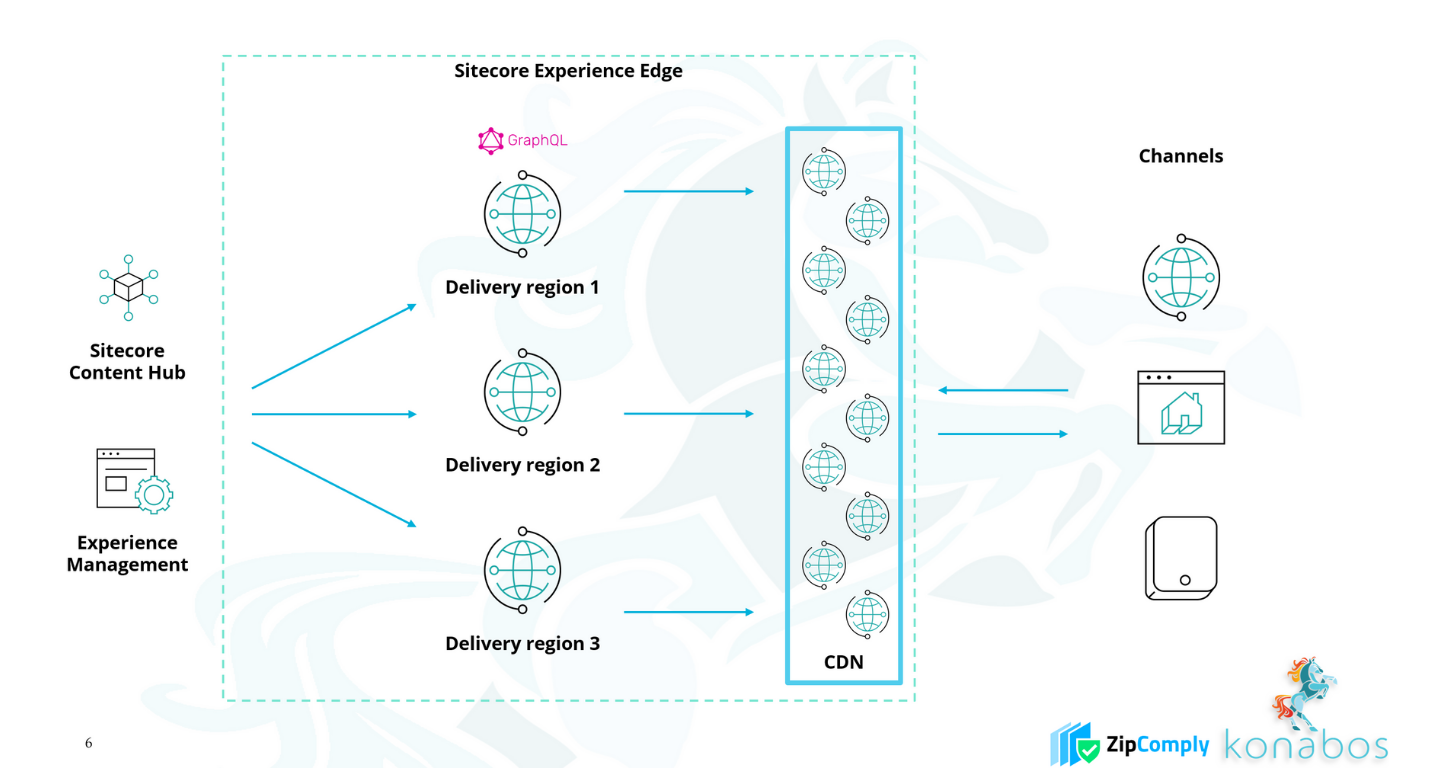 Sitecore Experience Edge Overview
Customers can publish anything from Sitecore Content Hub or Sitecore Experience Manager through Sitecore Experience Edge, and it will be viewable on any channel (smartphone, watch, websites) in real-time: and all without needing to sync or copy content thanks to the use of GraphQL API. So, which one should you choose?
The two offerings are addressed to customer groups with two different needs. Marketers and business users looking to manage content while allowing developers to focus on the presentation/front-end would benefit from Site Experience Edge for Sitecore Content Hub. In contrast, users looking to control the content and the presentation/experience composition layers without worrying about content deployment, infrastructure setup, and scaling should look into Sitecore Experience Edge for Sitecore Experience Manager (XM).
The initial release is only available for these two offerings; however, Sitecore will continue to build on Sitecore Experience Edge as it continues to expand its SaaS portfolio.
Sitecore Experience Edge for Content Hub Benefits
Sitecore Edge Delivery for Content Hub – Enables brands to perfect their content strategy and publish content to any channel on a scalable delivery platform through high-performing GraphQL APIs. This allows marketers and developers to work in parallel, allowing the former to manage content while the latter builds the presentation (front-end) separately.
As a SaaS system, it handles the tasks of architecting and maintaining delivery server topologies from partners and clients. It has been a stable technology that has been powering Content Hub for years, so it carries an assurance of reliability and dependability.
One of its key benefits is its ability to support omnichannel strategies with headless architecture and modular content storage. It's now easier than ever to distribute localized content seamlessly across all channels. This is a big win for marketers, for rather than recreating new content every time, this allows them to reuse what is already there and publish it across all channels – what a time-saving solution!
Sitecore Experience Edge for Experience Manager Benefits
Sitecore Edge Delivery for XM - Is a highly scalable and globally distributed delivery platform that allows customers on XM to publish static Sitecore JSS sites while delivering content to headless sites in real-time. This enables marketers to control the presentation and experience composition while removing the burden of content deployment, infrastructure setup and scaling.
Sitecore Edge Delivery is, ultimately, about getting your content to the right people, at the right time, on the right channel and on the right device. If you want your brand to remain relevant, to establish customer loyalty and drive conversions, then the new Sitecore Edge Delivery feature can help you deliver superior customer experiences with speed and efficiency.