Humans love feeling special. I don't need statistics to prove this. We all love when something is done specifically for us, and we simply connect better to such experiences. There is enough literature out there that talks about how a personalized experience has a higher propensity to convert. This article covers some strategic advantages you can achieve through personalizing your Sitecore website.
Personalization Improves Customer Experience
Customer Experience is all about understanding your customer's needs. While it is important to communicate the "Why we are in business" but after a certain point, that becomes irrelevant because people remember "How you make them feel". One such experience I can't forget was at the Rollercoaster Restaurant at Alton Towers in the UK. We must have waited for over an hour to get in, but once we did get through, everything that followed was picture perfect. It wasn't about the taste of the food served, but all I care for was the way they staged the experience.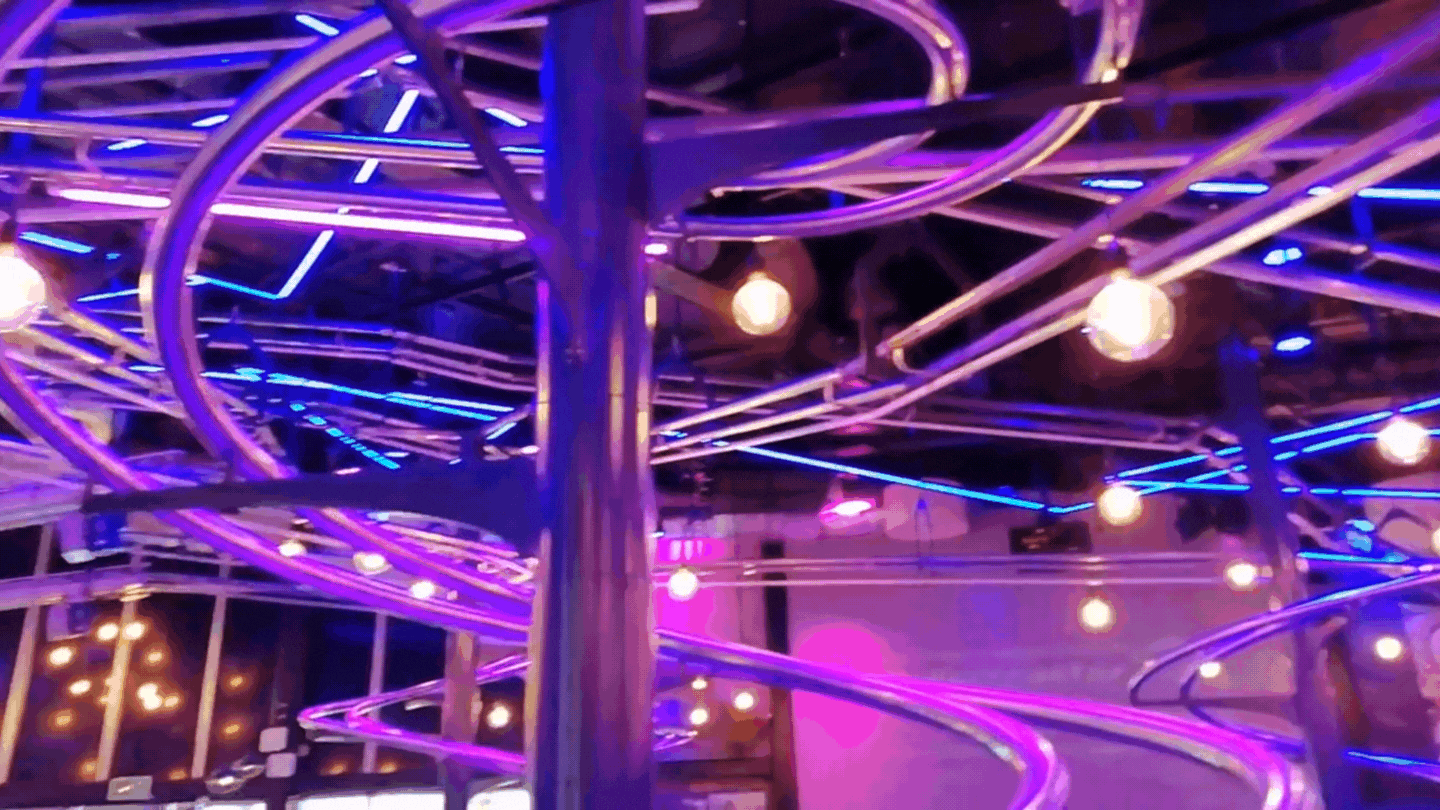 Now think of one experience that you can't forget. I am sure you have a smile on your face 😊.
Improving customer experience should always be the primary goal of your Sitecore Personalization engagements, however, the question is how do we do that? The answer is simple, step into your customer's shoes, understand their intent, and personalize accordingly. I call it APO: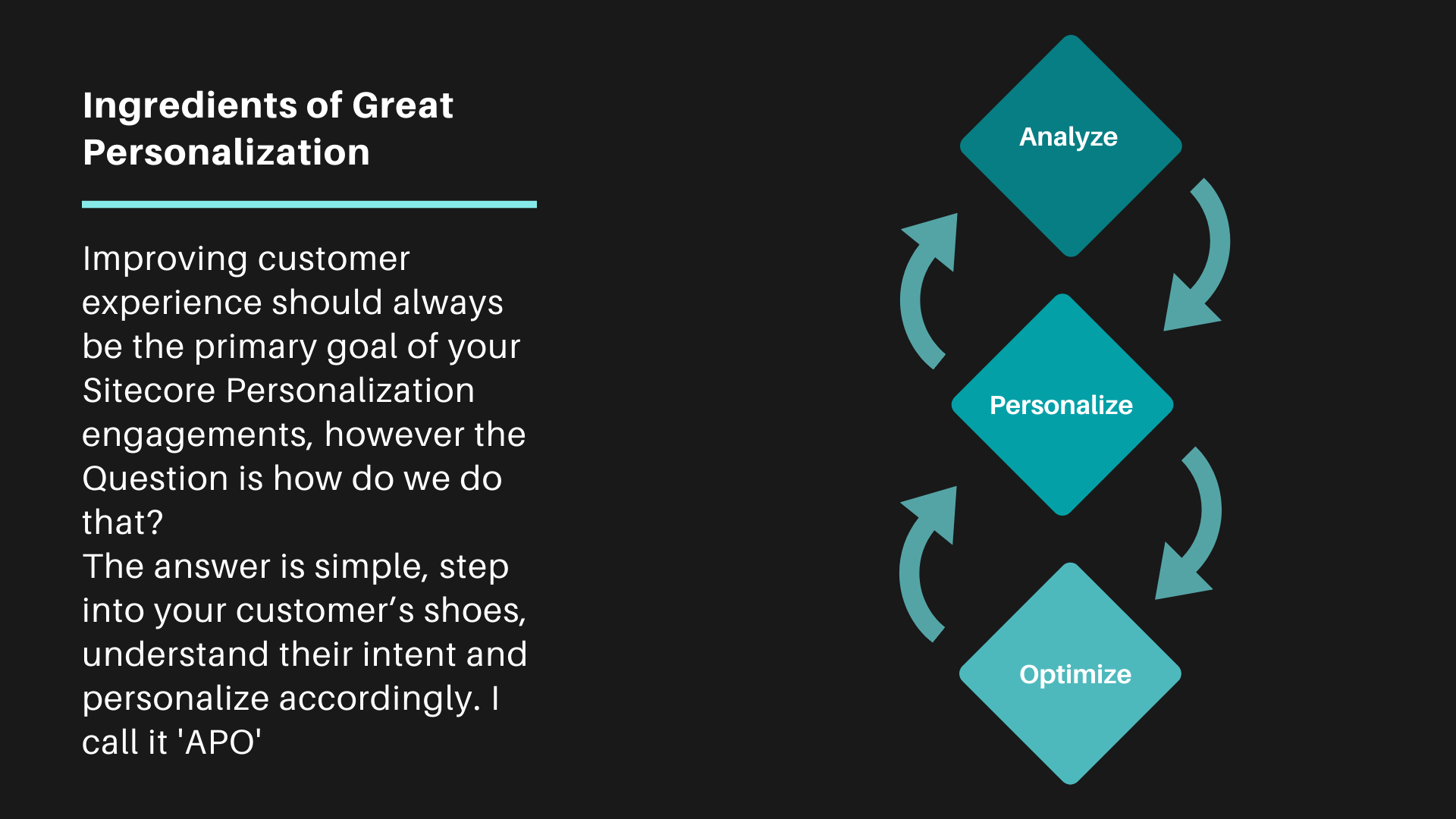 Use Case: You are the owner of a restaurant and have a returning customer on your website. Sitecore personalization can easily identify from the customer's history on the website whether they regularly order through the website or search for a location to book a table. If the person orders from the website, you can introduce them to any new deals that may be relevant whereas if they usually book a table, you might want to highlight the Karaoke Night at a location near them over the weekend.
Personalization helps optimize your customer journey
Sitecore Personalization ensures that your customer gets the best-optimized journey on your website. It measures how many steps your customer takes to achieve the goals you have set for them.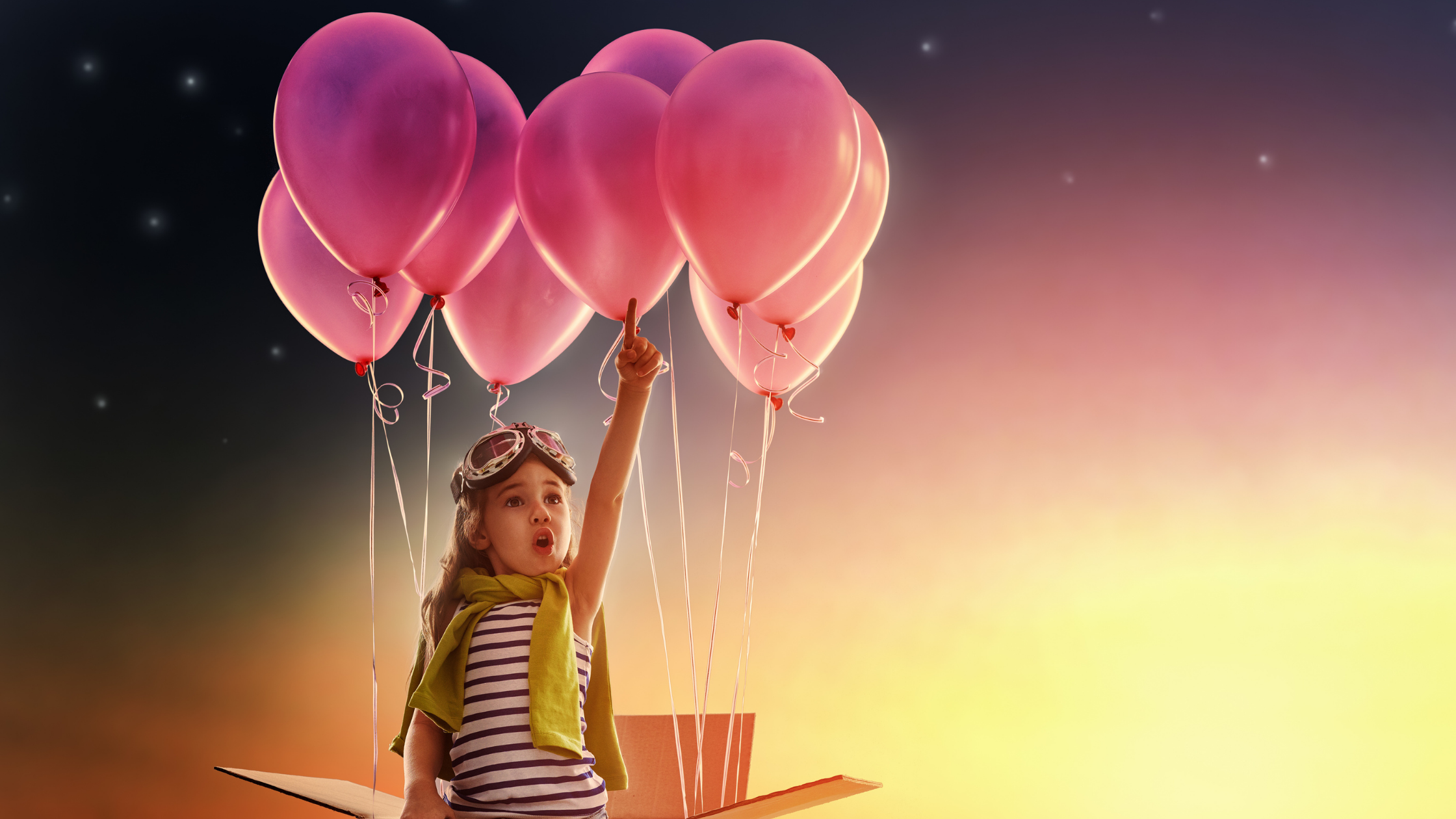 Use Case – You are an education provider. When a prospective student visits your website and applies for a Specific program, they may or may not be eligible to take it up. If your business rules determine that they are not eligible for the program but there is an alternative course you could offer to them, a personalization engine should be able to automatically recommend the alternative. The objective should be to simplify effort, reduce strain and value your customer's attention. Understanding their intent and offering what is best for them is always appreciated. Sitecore enables you with progressive profiling. It helps you show relevant services / offers to your customers optimizing their journey for them.
Personalize To Build Relevance
Using different test cases on Sitecore can help you optimize your content for your visitor. It not only helps you improve your user journey but can also help you identify what works best for your goals. You can add value at each stage of your customer journey by analyzing how they interact with your content. This helps you recommend the next best actions and focus on achieving your goals.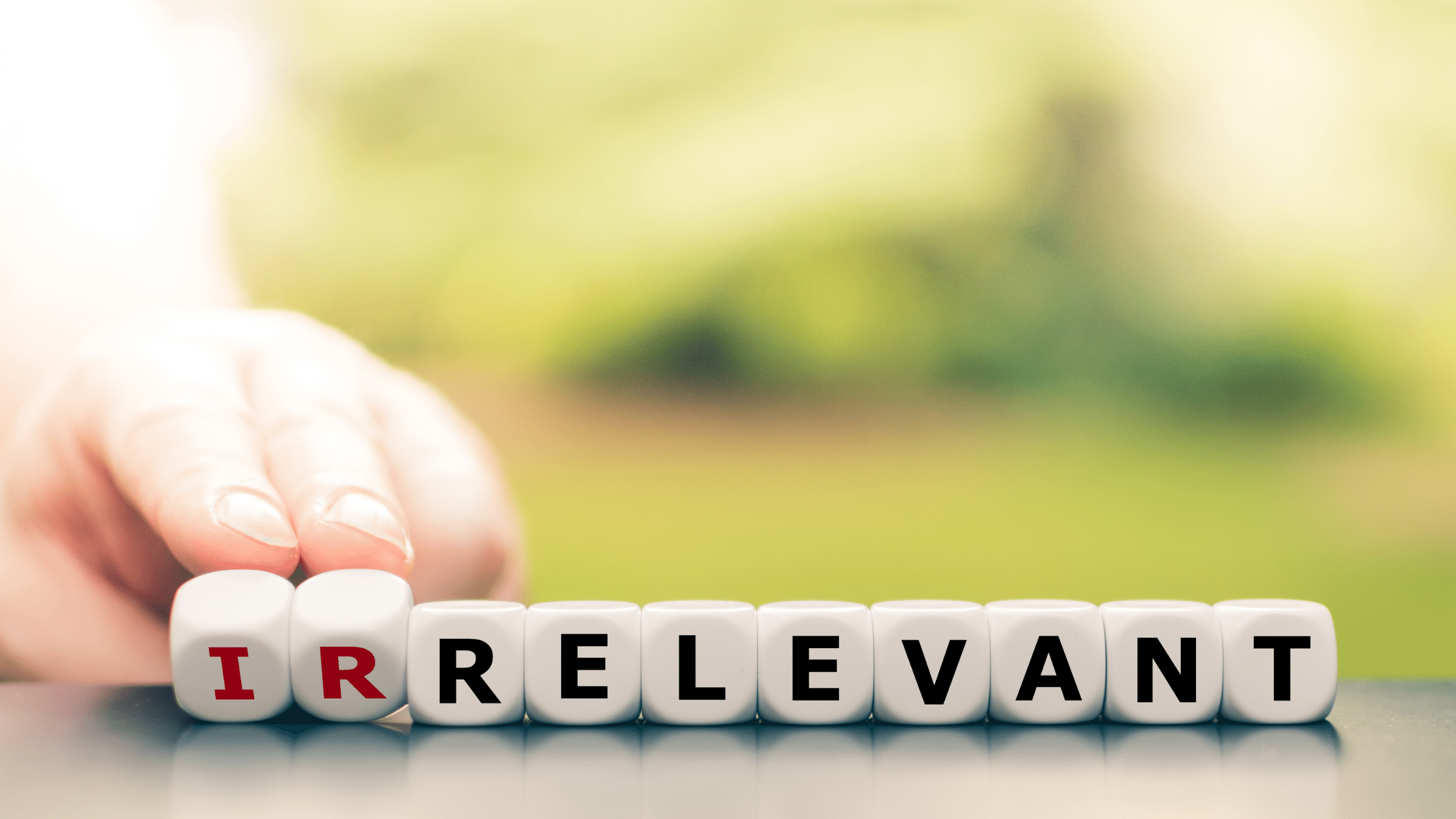 Use Case: You own a healthcare website and have a visitor on the website at 4:00 AM. This potentially looks like an emergency. Sitecore gives you the option to personalize content as per the time the visitor arrives on your website. In this scenario, you might want to highlight the emergency numbers to this visitor straightaway.
Personalize to build a bond with your customer
Personalization is an important marketing initiative that can help build a bond between you and your customers. Personalization if done right without being too creepy adds value and an additional reason for your customers to trust you. Customers love brands they can trust. By putting some effort into your website personalization in Sitecore, you can ensure you give them that reason.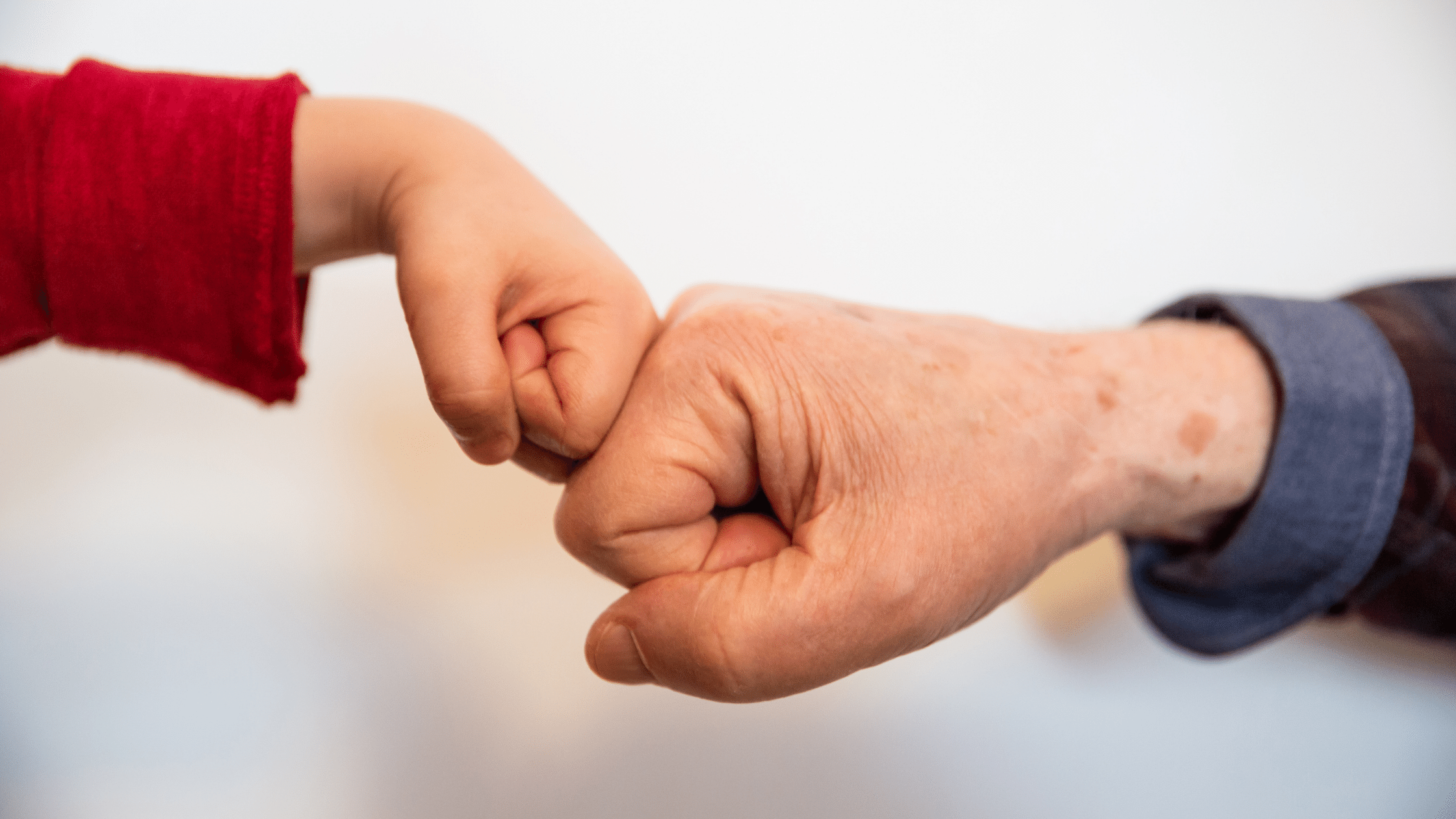 Use Case: You are an e-Commerce business and have visitors who searched for accessibility-friendly solutions or engage with certain accessibility-specific components on your website. You could use this cue to bring up accessibility-related product information to the forefront and enable decision-making.
Small personalized gestures help your customers realize that you understand their needs and are willing to go the extra mile to make it special for them.