Sitecore's LinkProvider is used to generate URLs of items.
There are several scenarios where one might need to override Sitecore's link provider.
In our project, we had this particular item type – Guide Articles – which the client specifically said would only be PDF files as opposed to being pages. But, they did want these to show up in search results like all other pages, linked through to the downloadable media item only.
There were also multiple components on the site, which were linked to these Guide Articles, where they always wanted the corresponding link to be of the associated media item.
While working on this requirement, it was also determined that the client might, at a later date, want to convert these to pages.
This is one of the scenarios where, overriding Sitecore's default LinkProvider would seem most beneficial. We would only update the way links are generated for items of this Guide Article type, and we wouldn't need to make any special accommodations in any other component, or even the search feature.
Additionally, flipping the switch when Guide Articles were to be updated to pages, would require minimal effort – and would simply involve turning off the LinkProvider override.
This was on Sitecore 9.3, and when we tried overriding the LinkProvider, we noticed that it was marked obsolete: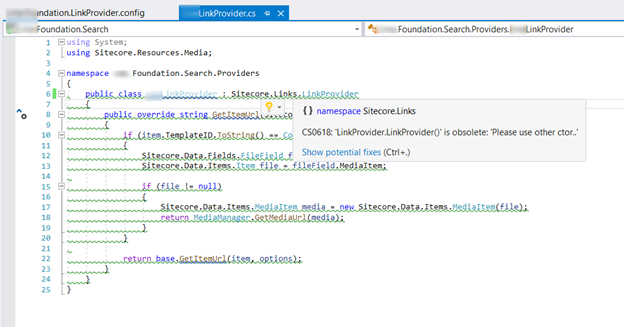 On digging around a bit, the solution was to override the itemUrlBuilder instead.
Just a small note to wrap this scenario up – since we had Guide Articles within the home node, we set the presentation in the standard values – to use a component that simply redirected the user to the home page. Even though this would ideally not be used, since links to the page would not be rendered any place due to the link provider override, it seemed like a good idea just to cover all bases.