The Roles of CX Analyst and SA
Customer Experience is a detailed understanding of a customer's holistic experience with a brand/service at every touchpoint. CX professionals play many roles, although as a CX Analyst myself, I believe this is an interesting role as it involves day to day tasks of a business analyst with a strong customer-focused lens - now that's rare. After all, a business is nothing without its customers!
A CX Analyst works on understanding business and IT requirements to solve problems for diverse personas through journey mapping, requirements gathering, improved processes and so much more. But they are incomplete without their Solution Architect (SA), who plays a crucial role in evaluating and designing the architecture of the business systems involved to support customer needs based on the requirements gathered.
While both roles are very different personalities emerging from completely diverse backgrounds and mindsets, I realized that there are still a lot of similarities in their thinking processes - to begin with, both love to make complex things simple just like Composable Digital Experience Platforms (DXPs).
Similarities between CX and SA
In the world of Composable DXPs (the future of digital experiences), similarities between CX and SA help design experiences brands want to offer to their customers online and offline at every touch point. Based on my experiences, below are a few similarities I have identified. If you resonate with them or have more points to discuss, we would love to hear from you. Feel free to tag Vaishali and this post on LinkedIn.
Experience focused: We collaboratively work to orchestrate digital journeys from an 'experience' lens. Experience is an intangible process triggered through the conscious perception of events sensed by every human being, and is now being evaluated by businesses to understand customer behaviors. In our CX and SA roles, we help businesses decode experiences at human and systems levels to gather a clear picture of what a customer feels at each touchpoint while we simultaneously identify the systems that are being triggered and how they are integrated to deliver an experience.

Design oriented: We love exploring our creative sides through designing, while CX analysts love humanizing designs by bringing in a lot of visuals and colors to their journey maps and service blueprints, SA is focused on shapes, and mapping integrations to design data flow of information. To design omnichannel communication between tools, systems and people involved - we draw them together to understand the holistic customer journey to deliver exceptional customer experiences at every single source.
Process improvers: Being a change catalyst is quite intuitive to us. We work from a value-add mindset and whenever we come across a process we instinctively think, 'How can we improve this?'. This instinct allows us to identify and review any roadblocks that hinder the seamless experience our clients want to offer their customers. As the shift continues to be from Monolith to Composable DXPs, being a part of this transition era opens many opportunities for us to improve processes rather than continuing legacy processes.
Bridge builders: We connect people and systems at their core, and as a key part of our roles we work with diverse stakeholders to facilitate project progress. Working as subject matter experts, we construct the bridge together to support our customer's needs just like Composable DXPs work synergistically to create simplified customer journeys through integrated technologies. As connecting agents, being able to collaboratively have the right understanding of business and tech is extremely important - we both have to constantly stay connected with each other to deliver the right experiences.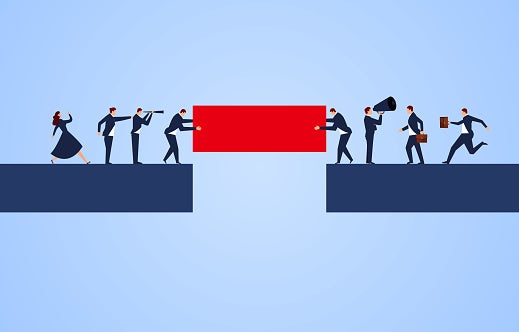 The Best of Both Worlds
Having a Customer Experience Analyst and a Solution Architect work on any project is like getting the best of both worlds. Clear customer and business requirements, gap identification, design mapping, process improvements, and curated documents are tasks worked on together to establish long-lasting communication processes between humans and systems. As we are transitioning from a silo-driven workplace (monolith DXPs) to a more collaborative one (composable DXPs), the new era of change is allowing companies to achieve the ultimate business goal of delivering exceptional customer experiences.